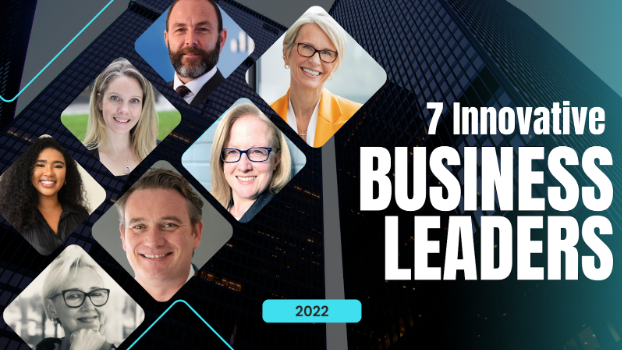 As 2022 draws to a close, we want to celebrate the innovative talent leading the world of business into 2023. We will learn what's in store for these creative individuals and what they've found to be their key to success.
The list below shares seven noteworthy CEOs innovating business in 2022. Make sure to follow their future projects to see how they transform their sectors.
Melissa McBride-Sophia Technologies 
Melissa McBride of Sophia Technologies is committed to reimagining education through the Metaverse and artificial intelligence.
At Sophia Technologies, they believe that the future belongs to the brave. They are incredibly excited about the work they are doing in web3, working to build a world for education in the Metaverse.
More than just immersive teaching in VR, they will also be offering GenAlpha and GenZ the opportunity to develop themselves as the creator's economy of the future through new tech education and access to virtual worlds inside Somnium Space.
Melissa advises that the key to success is putting students first and always remembering that when building NextGenEd in Web3, imagination is the only limitation.
Edward Noon-Noon Dalton  
Edward Noon is a founding partner and CEO of the Europe branch of Noon Dalton, specialists in outsourced and virtual teams.
Noon Dalton is financially stable from the approach that they have taken previously. They are positioned in the USA, UK, and Germany and have substantial growth plans for 2023. Regardless of the recession, Noon Dalton will reinvest heavily in growing market shares and leadership development. As things worsen through the winter, companies will struggle to find the right staff while managing costs. Their perspective is that companies are overpaying for local labor that can be completed remotely with an outsourcing partner. Noon Dalton helps companies accomplish this.
The key to Noon Dalton's success is putting a lot of stock into continuous personal growth, optimism, and perseverance. Edward tries to bring that through to all staff, "In short, personal development of our internal teams at all levels is the most important when it comes to our teams, as we want them to grow and learn as much as possible when they are with us, even if it means that they outgrow us".
Noon Dalton cares about their staff on an individual level, getting to know what motivates them and how they can benefit from their guidance. Edward's vision can't be executed by him alone, so focusing on our teams helps build that vision from the ground up.
Dame Emma Walmsey-GSK 
Dame Emma Walmsey held several other high-profile positions before joining GlaxoSmithKline, an international company within the biopharmaceutical industry.
The future of GSK focuses on a new era of human health. Their combination of technology, science, and research allows them to produce specialty medicines, vaccines, and so on.
Walmsey's success has gone from stride to stride, beginning with her studies at Oxford, to her 17 years at L'Oreal and onto joining GSK as CEO in April 2017.
Annemie Ress-PurpleBeach 
Annemie is the CEO and founder of PurpleBeach, an innovative business consultancy firm changing the game in organizational and digital transformation.
Purple Beach has recently celebrated its 10th anniversary and published its 'People Innovation Manifesto', which demonstrates in-depth insight, experience, and expertise. They are relishing the opportunity in 2023 to challenge, question, innovate and define the NEW. Post-pandemic, they found themselves living in the 'NEW,' and businesses are required to adapt quickly to survive in a rapidly evolving economic and social landscape. We see and believe that fixed mindsets, inculcated behaviors, and leadership norms that promote groupthink and the status quo have no place in the future. We can't wait to inspire, change and help maintain a different way of unlocking the potential of people within businesses.
The key to Annemie's success lies in the mantra that companies need to be as innovative with people as they are with their product development or their go-to-market strategies. Real transformation involves every person, every process, and every action in the business. By always embracing changing landscapes and facing forward challenges, she can respond quickly to brand-new technologies, methodologies, and practices. She sees what works and where immediate improvements can be made, embedding transformative growth immediately and for the long term. The bedrock of any change is anchored in ensuring that the strategy enables employees to be the best they can be to deliver the company objectives.
Dr.Charmaine Griffiths-British Heart Foundation 
The British Heart Foundation does not require an introduction, this charity has provided vital support for many Britons. Charmaine Griffith is the chief executive of BHF, and is dedicated to improving human life.
The British Heart Foundation is a non-profit focused on researching and ultimately beating heart disease, diabetes, strokes, and vascular dementia. They fund £1M of research each year and won't be stopping any time soon, even after celebrating their 60th birthday.
Griffith's success lies in the years of hard-work training as a scientist and through the vast experience, she has gained in executive and senior roles.
Sydney Samuels-Loop Not Luck   
Samuels is the CEO and founder of Loop Not Luck, whose mission is to improve social mobility and diversify the workforce by connecting talent to career opportunities.
However, her work is not yet complete, and Loopnotluck.com are approaching 2023 with a clear focus and mission – making it as easy as possible for companies to attract and hire under-represented talent. They will be launching their second funding round in 2023 alongside rapidly scaling their operations, ahead of which they will be announcing new developments in the pipeline.
With the focus on making it as easy as possible for companies to attract and hire under-represented talent, there comes the willingness to adapt and embrace change. Loop Not Luck is exploring how it can use emerging technologies to optimize its offering to candidates and businesses in the talent acquisition space. They recognize that the war on talent is not going anywhere, and they will be an instrumental string in the bow of companies that are proactively embracing diversity and leading the change they want to see in the world.
We asked Sydney what she believes the key to her success is, and she provided a handful of reasons, "First of all surrounding myself with people who have a different skill set but similar values and delegating to competent people. Setting clear goals to hit and daily actions to work towards that. Being consistent and taking risks is additionally important. And lastly, being available for things outside of work and acknowledging my achievements. I tend to move straight on to the next thing. I now understand that reflection and acknowledgment are crucial to moving forward in a clear direction."
David Meads of Cisco  
Cisco and CEO David Meads strive for inclusion within the tech industry. Cisco is responsible for a whole ream of technologies, such as software, security, and computing.
Meads himself is committed to developing young talent by providing opportunities via digital skills. The future of Cisco firmly lies in innovating technology, promoting inclusion, and working toward a sustainable future.
Meads describes himself as a transformational leader, which is proved by his 30 years of experience within the tech sector.